Good service industrial micro used beer brewing equipment
Seller

Jinan Humber Equipment Technology Co., Ltd.

Min. Order

1 Set/Sets

FOB Price

US $35000-54000 /Set
Item Details
| | |
| --- | --- |
| Port: | QingDao |
| Supply Ability: | 23 Set/Sets per Month |
| Payment Terms: | L/C,D/A,D/P,T/T,Western Union,MoneyGram,Trade Assurance |
Product Description
Good service industrial micro used beer brewing equipment
Product Description
micro brewing equipment introduction
Grinding System

Main equipment

Malt mill; screw feeder, grain hoppers, grist hydrator

Working capacity

80-800Kg/h

Function

Malt mill breaks grains, make it easier for sugar to separate out when saccharify

Mashing System

Main equipment

Mashing tun, lauter tun, kettle and whirlpool tank

Optional

Cold liquid tank (CLT), hot liquid tank (HLT), Boiler

Capacity

30L--30000L per batch

Heating way

Steam heating, electric heating, direct fire heating

Material

SUS304, thickness: 2.0-4.0mm

Insulation

Polyurethane/Rock wool, thickness: 80mm

Polishing precision

Ra0.4um

Accessories

Pump, pipeline, heat exchanger, valve, raker, platform, and all other accessaries

Function

Separate all sugar from grains and solve sugar in water. Also solve hops in water. Then separate grains and impurities from water. Finally get pure wort

Fermentation system

Main equipment

Several fermentation tanks. Quantity is decided by you

Capacity

30L--30000L per tank

Material

SUS304, thickness: 2.0-4.0mm

Insulation

Polyurethane/Rock wool, thickness: 80mm

Polishing precision

Ra0.4um

Cooling way

Ice water belt cooling

Cone bottom

60° resist compression design

Sampling method

1 piece of aseptic sampling valve

Fermentation tank pressure

Design pressure 0.3MPa; Working pressure 0.15Mpa

Accessories

Pump, pipeline, yeast adding tank, valve, and all other accessaries

Function

Yeast has aerobic respiration and anaerobic respiration in fermentation tank. Turn sugar into CO2 and alcohol. Finally we get original beer

Refrigeration System

Main equipment

Ice water tank, chiller

Capacity

90L--90000L per tank

Chiller

Compressor is USA copeland

Material

SUS304, thickness: 2.0-4.0mm

Insulation

Polyurethane/Rock wool, thickness: 80mm

Polishing precision

Ra0.4um

Cooling media

Glycol water or alcohol water

Accessories

Pump, pipeline, valve, and all other accessaries

Function

Cool down wort when fermentation tank temperature is high. Control fermentation carries on under appropriate temperature. Sometime, ice water is also used to cold down hot wort before wort goes into fermentation tank

CIP system

Main equipment

NaOH tank, H2O2 tank

Function

Clean all tanks before brewing beer or finish brewing beer. Use NaOH to clean firstly, secondly is H2O2, finally is water. Then begin to brew beer

Control System

Main equipment

Button control box or PLC control box

Function: Control all the pump and motor. Control mashing system and CIP system manually, control fermentation tank temperature automatically.

Others

Can also supply auto filling system, capping system, filtering system, water treatment system, pasteurizer and so on.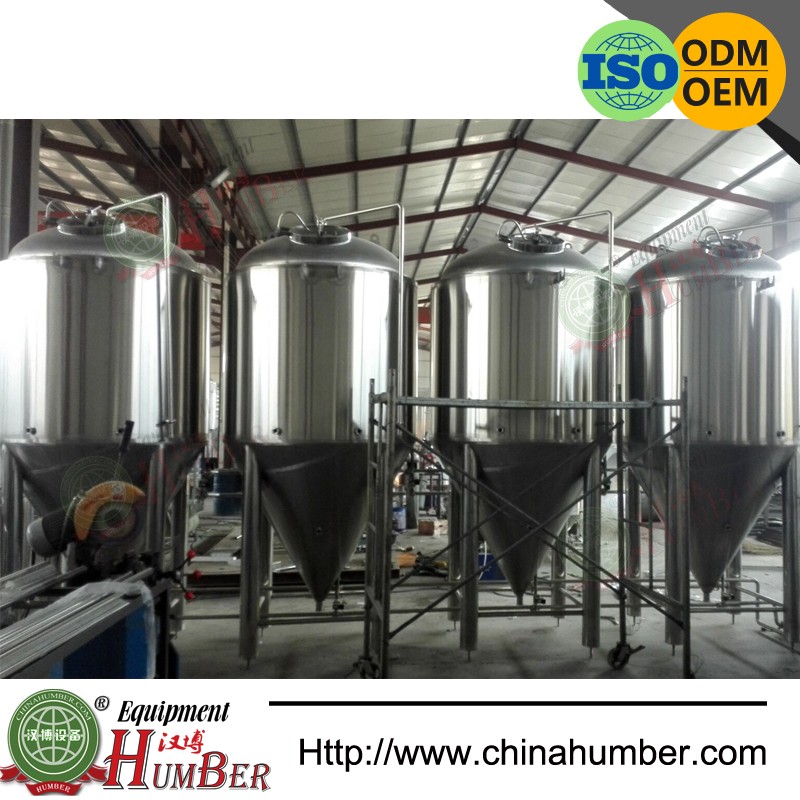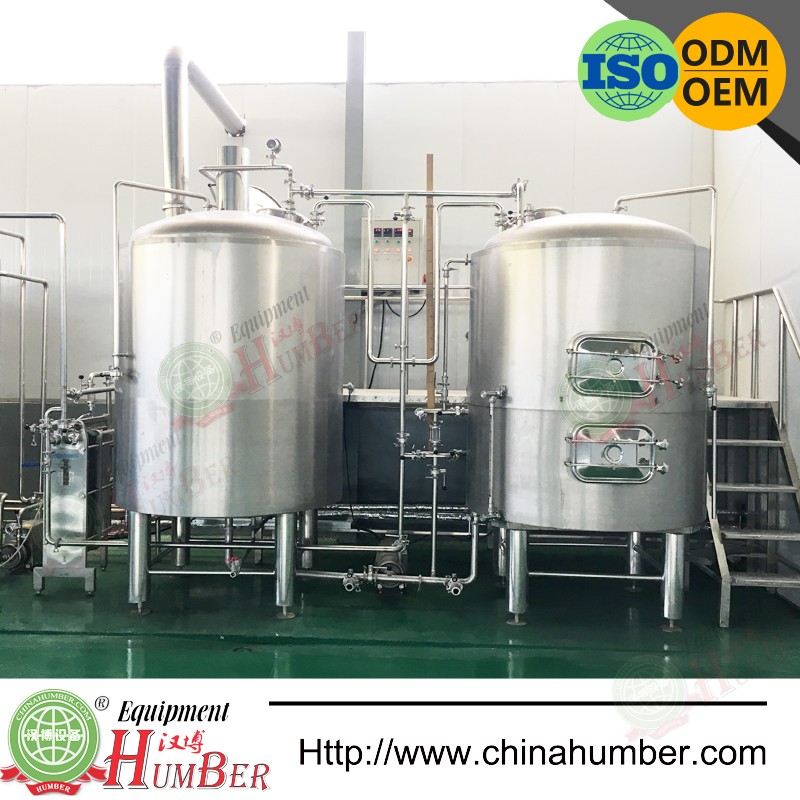 Mash/Ferment
Mash Details
1. Inner-jacket is 3.0MM, external-jacket is 2.0MM.
2. Brew water inlet, SS304, Connection type: fast connection
3. CIP washing equipment, SS304, comprehensive cleaning
4. Mixer motor:motorpower: 1.5 KW The infinite gear motor
5. Spot lamp,used for tank lighting
6. With manway, material is SS304, circular manhole thickness 2.0mm, diameter 400mm, normal pressure manhole design.
7. With liquidmeter, observe the liquild level in the tank samples can be taken from the level base
8. Thermometer: the iron shell metal thermometer, temperature of the tank used for observation, accuracy of plus or minus 0.1 degrees.
9. Vinasse outlet, stainless steel 304, size is 430x330mm
10. Filter plate (Activity false bottom)
11. Wort collecting pipe
12. Insulation: PU heat preservation, thermal insulation layer thickness of 100 mm
13. Supporting leg: four stainless steel legs
14. Supporting studdle, Strengthen the legs supporting strength, Material quality: stainless steel 304
15. Foot bolts,those what can adjust the height of the equipment and easy to be installed
Fermentation Details
Cooling way: Ice water belt or miller plate;
Cooling media: glycol water or alcohol water.
Material: Inner (SUS304)thickness: 3.0mm;
External-Jacket(SUS304) thickness: 1.5mm;
Top seal head, thickness: 3.0mm.
Insulation: Polyurethane-thickness: 80mm.
The inner surface polished to Ra0.6um.
Equipped with: Cone 60° resist compression design, Side manhole: 430*330mm.
With sampling valve, vent valve, safety valve, pressure gauge, solenoid valve and etc.
Fermentation tank pressure: Design pressure 0.3MPa; Working pressure 0.15Mpa.
Cleaning System: CIP washing unit: Comprehensive cleaning.
Foot bolt: Adjust the height of the equipment, easy to install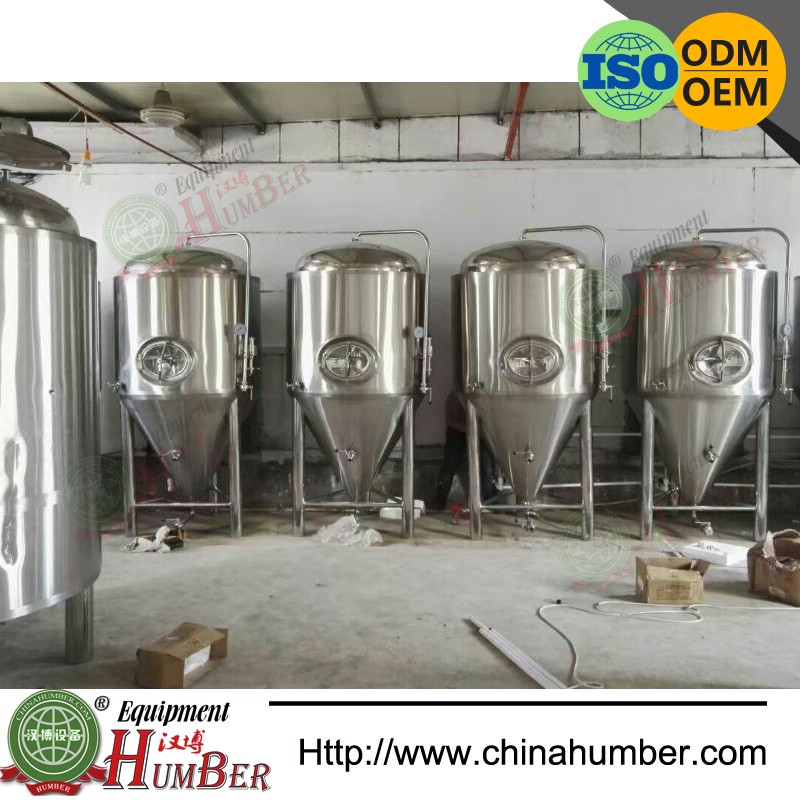 production process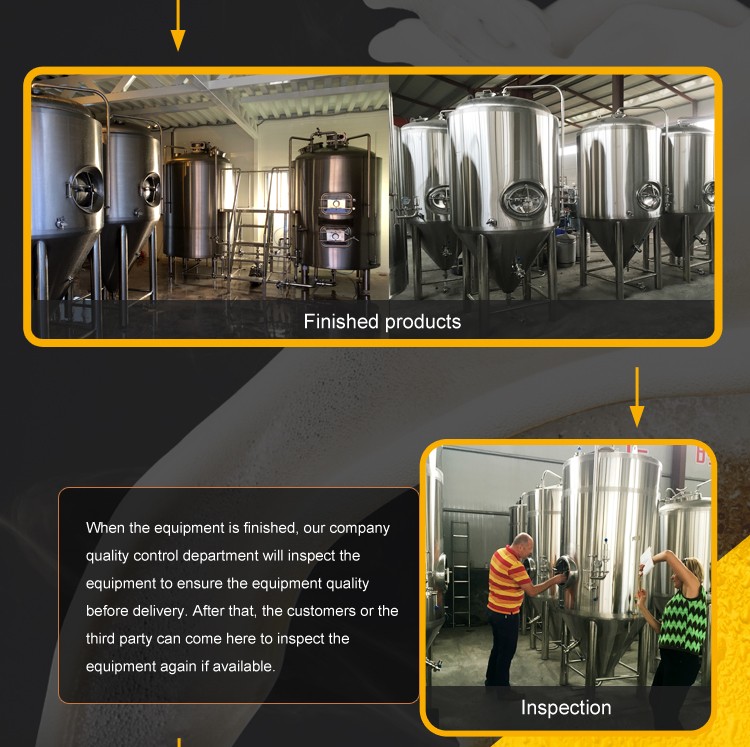 Brew process
Raw material: hops, wheat or barley, yeast ans water
Steps: mill, mashing, lauter, boiling, whirlpool, fermenting, filling, packaging.
We have professional brewmaters, and could provide from raw matetial to brewing formula, from beer production to personnel training service. Nothing to know about beer brewery also could make good beer.
Processing Introduce

1.Infiltrating ,crushing malt;Heating the brewing water in brew kettle
2.Pumping a certain amount of appropriate temperature of hot water into mash tun;starting rotary blade,uniformly putting into material ,stopping rotary blade when stirring uniformly timing saccha;Controlling of water temperature and water quantity,keeping appropriate saccharification temperature ,stirring in every 15 minutes
3.refluxing turbid wort when saccharification ends .observing through the sight glass, beginning to filter when wort is charified ;washing the tank when the tank exposes in the filtration process ,water temperature 78;Continue to filtrate after washing the tank,until sugar content meets the requirements.stopping washing the tank and filtrating
4.pumping all the wort into brew kettle ,heated to boiling for 60 to 90 minutes;in the first ten minutes of boiling,batch adding bitter hops;adding sweet hops before the end of boiling
5.after the end of boiling,immediately pumping wort into lauter tun&whirlpool tank;starting to cyclotron precipitation,lay aside for 30 minutes
6.starding cold water valve and wort pump at the same time,cooling wort to a certain temperature in the plate heat exchanger;after wort is cooling ,oxygenating to 8mg/l,pumping wortto fermentation tank;adding special beer yeast into fermentation tank to ferment
7.controlling fermentation temperature and pressure,when brix drop to 4.2,sealing tank to maintain pressure,automatically heating up to 12 °C,deoxidating cold diacetyl;at the end of deoxidating cold diacetyl,cooling uniformly and slowly,precipitating yeast in this process;wine temperature drop to 1 to 2 °C can be stored,tank bottom yeast mud can be recycled
Company Information
Jinan Humber Equipment Technology Co., Ltd is located in the beautiful spring city-Jinan, with a 8000 square meters manufacturing workshop, it is one of the place in Jinan which collect the research and development, design, fabrication, installation of beer equipment and training of the professor. Its specialty engaged in the production of beer equipment, self-beer-brewing equipment, hotel beer equipment, experimental beer equipment, fermenting equipment, draft beers machine, beer sales system and so on. We also can offer you a wide variety of technical solutions, dispatch engineer to your local to install the equipment, debugging and training for you; We can supply you with 50L, 100L, 200L, 300L, 500L, 1000L, 2000L, 3000l, 5000l, 10000L or even bigger systems, also can customize according to your requirements.

The characteristics of this equipment are fabrication at scene, maintain the freshness and nutrition maximum. rich in 17 kinds of amino acids, 8 essential amino acids to human can not synthesized by human body, and more than 11 kinds of vitamins, especially B vitamins that rare in other food; besides, brewer can also brew red beer, yellow beer, fruit beer, black beer, to meet different taste and level of customer.
Quality could system: ISO9001-2000 CE

Main Market:All over the world, just like United States, Canada, Columbia, Chile, France, Sweden, Norway, Belgium, Italy, India, Vietnam, Czech etc.
Description of products:
304 international standard stainless steel materials (mashed and lauter tanks can be luxury red copper material). You can choice stainless steel polishes, carbon steel, spray finishing and so on. Every brewery is planned and manufactured under customers requirements, we supply the whole set-up equipment with highest quality and best price
Pre/After-service
Pre-service
1.Our market team can serve you in 24 hours, so please feel free to contact at your convinent.
2.Our dedicated engineers can supply 2D, 3D drawing for you if you needed.
3.If you need to inspect our factory, we can book the hotel and make the invitation letter for you.
4.Our market team with our engineer with more than 10 years experiences together can satisfy you with any
technology problem.
5.Customize machine can be offered(voltage,material,dimension,heating source and so on).
After-service
1.When shippment, we will supply a whole set of parts for backup.
2.If there is any parts damaged, we are surely can send the part to you in 24 hours.
3.Main machine is 3 years warranty, auxiliary machine is 12 months warranty.
4.electrical components is 18 months warranty, life long service.
FAQ
Why choose us?
1) Strictly controlled quality from raw material to finished products, and ensure high quality of your required products.
2) All our main equipment warranty for 3 years. All the electrical components of quality assurance for 12 months, to provide technical services for life.
3) Passed CE, ISO Certificate.
4) Short production cycle, exported to many countries.
5) Provide one-stop services, including design, production, transportation, installation, training, after-sales service.
6) Professional design team and winemakers are very experienced.
contact us